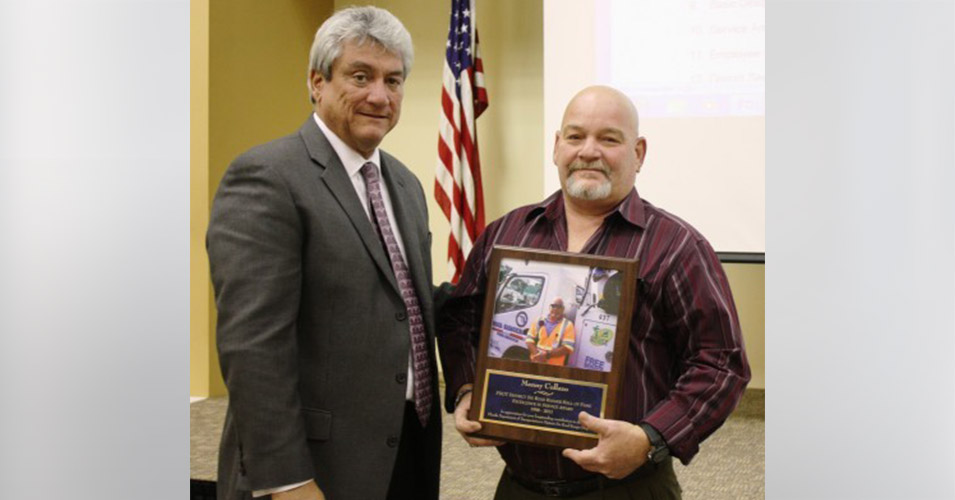 October 2012 – Manny Collazo
The District Six Intelligent Transportation Systems (ITS) Office has named Mr. Manny Collazo as the Road Ranger of the Month for October 2012. Mr. Collazo was also recently awarded with the District's first ever "Excellence in Service" Award for his long-standing contribution to the FDOT Road Ranger Program and the Incident Management community at large.
Manny began his career as a service patrol soon after the program launched in 1998. He worked for approximately ten years, servicing mostly State Road 826 (Palmetto Expressway) as well as Interstate 95 in Miami-Dade County. There, he provided motorist assistance services and operated the full fleet of Road Ranger vehicles. His on-the-job skills quickly led him to a supervisory position in where he trained and managed other service patrols throughout the county.
After ten years, Manny moved on to work for the Section 5 Project with Community Asphalt. In this capacity, Manny took a leadership role and spearheaded the launch of the Road Ranger Program for the SR 826/836 Interchange Reconstruction Project. Despite the project's large-scale construction activities, Manny's efforts helped ensure the roadways were kept free and clear of road blocking events. Manny excelled in this role because he understood the magnitude of the project and the impact it would have on the drivers, the community and the Department. He worked diligently to assist project management and trained new Road Rangers in field coordination, maintenance of traffic and driver assistance efforts all while serving as a Road Ranger himself.
After suffering an injury, Manny retired from his post last year. However, he undoubtedly left a mark in the District Six Road Ranger Program since his contributions helped launch and sustain the successful service many drivers enjoy today. It is for his long-standing contribution and wiliness to help others that Manny was recognized with the Excellence in Service Award and is the honorary Road Ranger of the Month for October 2012.