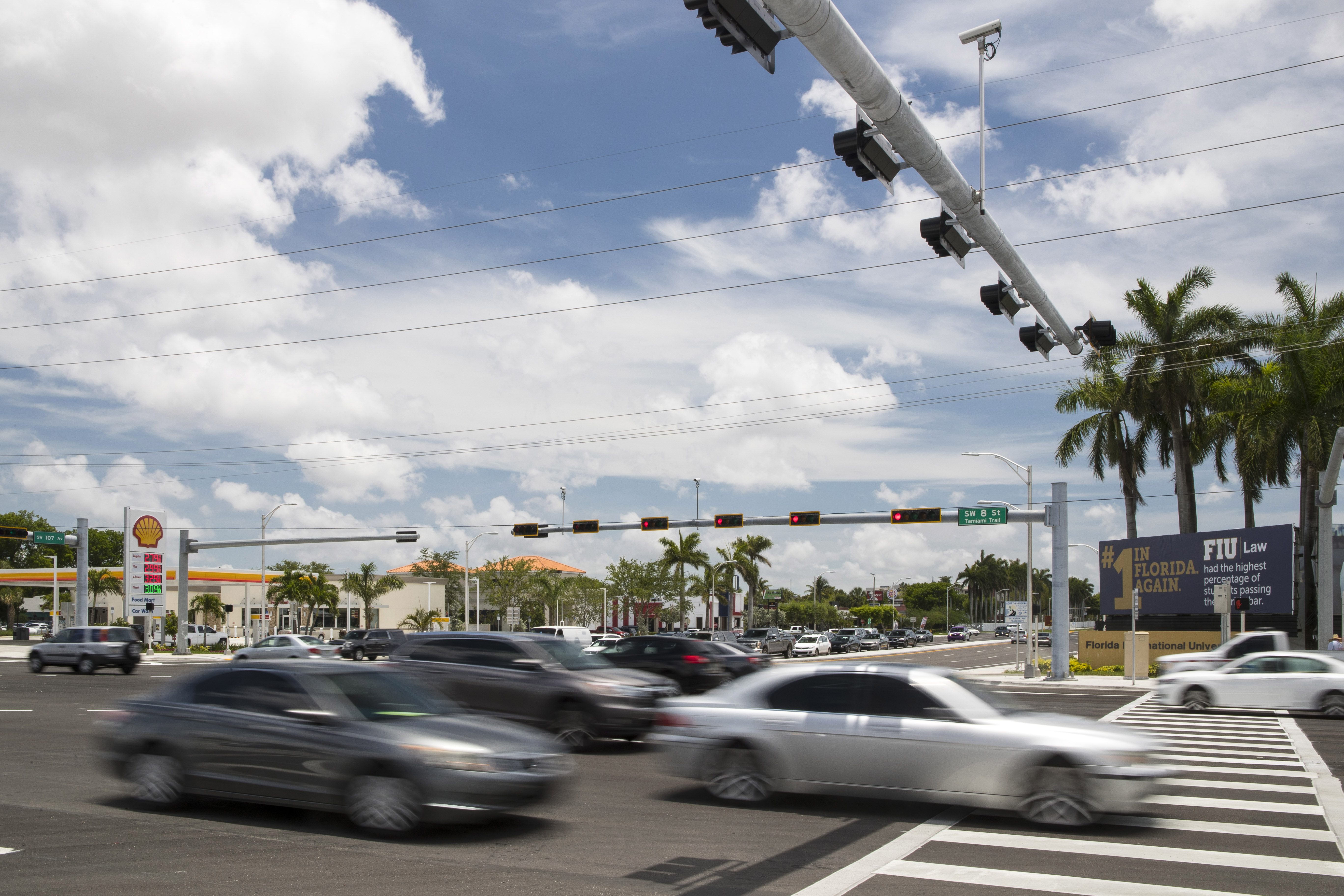 Report Shows that Safety, Travel Speeds have Improved on SW 8 Street
The Florida Department of Transportation recently unveiled the results of an independent evaluation report that shows its SW 8 Street Adaptive Signal Control Technology (ASCT) Pilot Project has improved the safety and traffic conditions of this critical east-west corridor in Miami-Dade County.
The project completed its first full year of operation in 2019. FDOT launched this project in partnership with Miami-Dade County, which included intelligent system upgrades to 30 signalized intersections along SW 8 Street from SW 67th Avenue to SW 142 Avenue. The system uses a real-time traffic optimization algorithm that enables traffic signals to adapt to actual traffic demand. The goal was to improve safety and reduce congestion on the main corridor and its cross streets.  The study was completed by Florida International University (FIU) in September and revealed the project is achieving this goal.  The study confirmed that on the main corridor (SW 8 Street) travel times improved in the range of 3.65% to 12.5%, total delay was reduced by 11.8%, vehicle throughput increased by 5% and crash frequency was reduced by 9.73%. On the cross streets, total delay was reduced in the range of 9.8% to 23.5% and crash frequency was reduced in the range of 4.05% to 11.6%. The study also concluded the project yielded a benefit to cost ratio of 3.70 as a result of these travel time improvements.  
These findings confirm that ASCT systems are a viable solution in the arterial management toolbox. They are a good example of projects that may be implemented in the community to support the District's expansion of active arterial management.