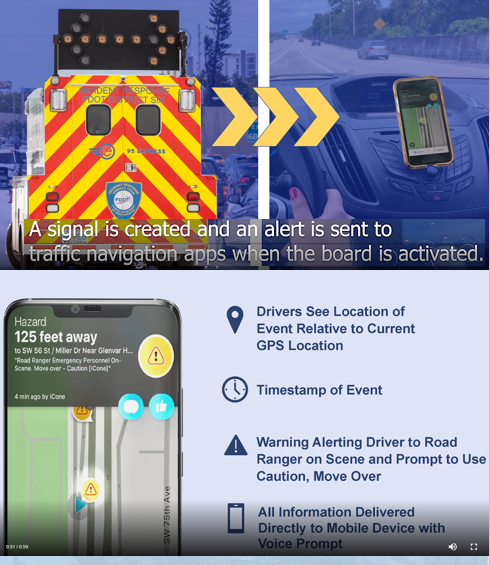 I2V Project Improves Travel Conditions in Miami-Dade County
A third-party evaluation report revealed that FDOT's Infrastructure to Vehicle (I2V) pilot project for incident management may have been a contributing factor for effectively reducing travel speeds around active incident scenes in Miami-Dade County.
The project was launched in 2020 and installed connected vehicle technology on the existing fleet of Incident Response Vehicles (IRV) to connect them with traffic navigation applications like Waze. The technology detects when IRV trucks are actively clearing incidents and sends real-time mobile alerts to caution nearby drivers. The alerts prompt drivers to move over or slow down when approaching the scene to reduce travel speeds around IRV-managed incidents.
The evaluation was conducted by Florida International University and showed that average travel speeds reduced by approximately 5.5 mph both upstream and downstream of incidents responded by IRVs. Average travel speeds upstream of crashes reduced by 9.5 mph and average travel speeds upstream of level-3 incidents reduced by 11.8 mph.
These improvements show how I2V projects can help keep incident responders safe by giving drivers more advance warning of active incidents and increasing the public's compliance of the "Move Over" law. I2V strategies are connecting motorists with roadway infrastructure to help them make better decisions in real-time. This project represents the Department's commitment to incorporate new strategies and technologies to enhance driver experience and increase the reliability of our roadways.