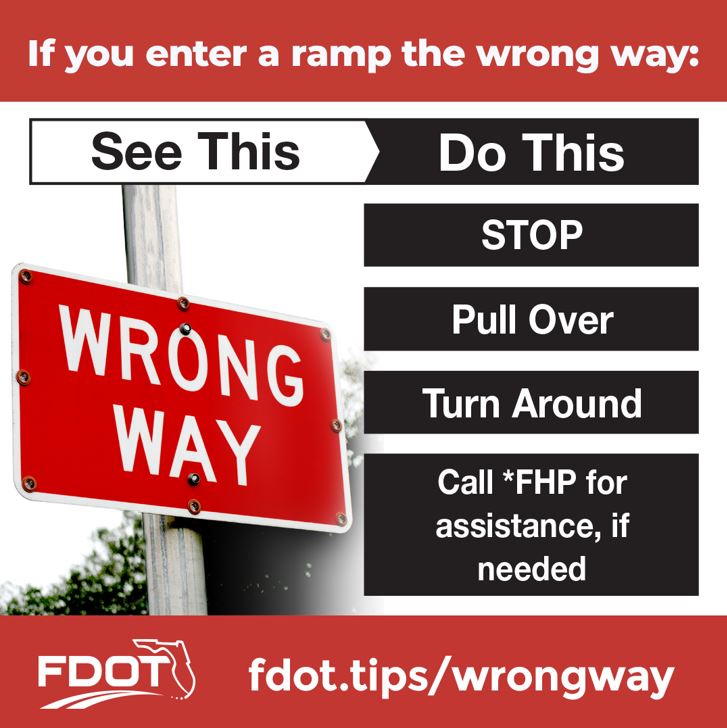 FDOT Releases New Wrong Way Driving Video
The Florida Department of Transportation (FDOT) has released a short public service announcement (PSA) video about wrong way driving just in time for the holiday season. The thirty second video is titled "Together We Can All Get There Safely" and was created to raise awareness about this dangerous problem affecting our roads.
The clip features powerful images and statistics about this alarming trend. It shows how wrong way driving has caused 435 deaths and 1,486 serious injuries over a four-year period in our state. Almost half of these collisions have been a result of impaired drivers improperly entering highway off ramps. To help prevent this, FDOT has implemented several roadway safety measures including increased lighting, installing reflective pavement markings and roadway identification shields, and flashing "Wrong Way" and "Do Not Enter" signs. It has also installed automated detection systems that identify when drivers enter an off ramp the wrong way. The system uses innovative highway technology to detect this behavior, trigger the flashing signs to alert the driver, notify the regional transportation management center and law enforcement, and inform other drivers using dynamic message signs.
The PSA is part of FDOT's larger effort to counteract this behavior. The wrong way driving initiative supports the FDOT's commitment to achieving zero fatalities and serious injuries on the State Highway System. For more information about all the efforts being conducted by FDOT, please visit: https://www.fdot.gov/traffic/its/projects-deploy/wrong-way-driving