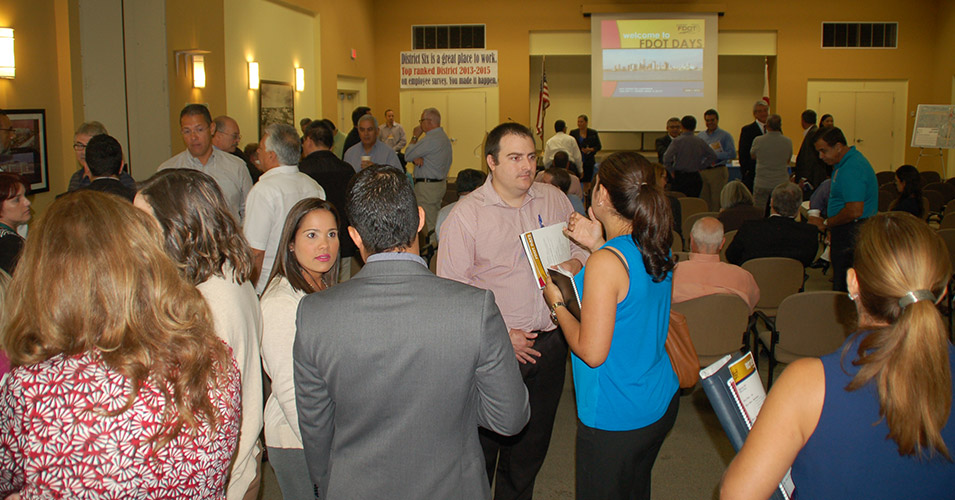 FDOT Hosts Open House Event
The District Six Intelligent Transportation Systems Office recently participated in the bi-annual FDOT Days Event in Miami.
The popular event provides the municipal staff of Miami-Dade and Monroe Counties an opportunity to learn more about the agency and the departments it is comprised of. It is held to educate partner agencies about the resources available to them through the state agency. The goal is to strengthen relationships and identify areas of mutual benefit to encourage future collaborations.
The event kicked off with a general overview of the FDOT District Office and was followed by individual presentations for each Department. Attendees got to hear first-hand from Department Managers about current projects and what lies ahead for their programs. Guests were also given the opportunity to ask questions and interact more closely with Department representatives at the event's "open house" session. The session featured individual table stations for each Department and allowed guests to learn more about each one. The ITS Program was a featured stop and included a tour of the SunGuide Transportation Management Center. About 40 guests were guided to the center and were given a comprehensive overview of the program, its services and future projects. The tour lasted about one and a half hours and guests asked multiple questions about the traffic management services such as 95 Express.
The next FDOT Days Event is scheduled for 2017. For more information, please contact: 305-470-5349.