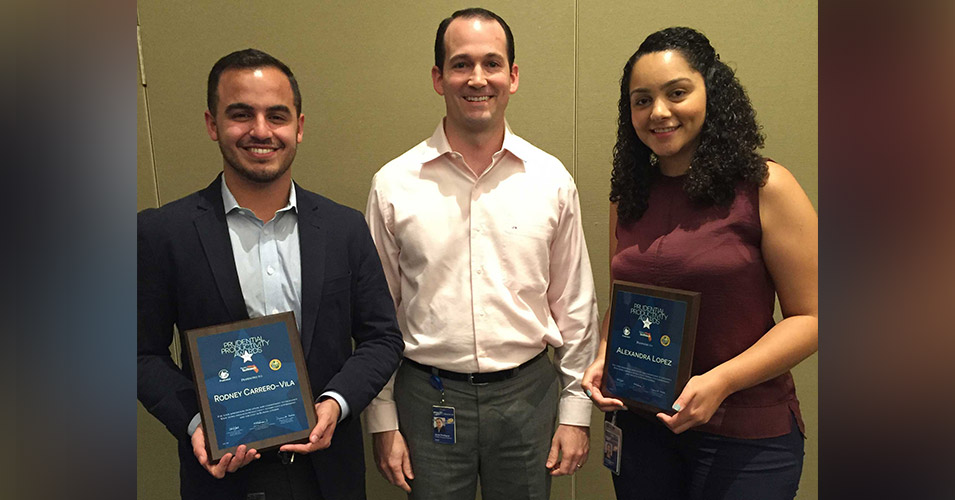 FDOT District Six Wins Two Prudential Productivity Awards!
Florida Department of Transportation District Six Transportation Systems Management and Operations (TSM&O) staff members Alexandra Lopez and Rodney Carrero-Vila were presented Prudential Productivity Awards for their efforts related to two major projects at the SunGuide Transportation Management Center (TMC).
Alexandra Lopez was recognized for her leadership and efforts relating to the SunGuide TMC's Control Room Retrofit. The project idea came when the majority of the control room's equipment was nearing its end-of-life cycle and needed replacing. The District took advantage of this opportunity and instead of simply replacing the equipment, it improved upon its current operations and planned for future growth by redesigning the control room's layout, procuring more efficient equipment, and enhancing traffic operator workstations. The project was completed within 60 days and did not disrupt the traffic services provided to the public. The project also produced a cost savings of $17,342.50.
Rodney Carrero-Vila was recognized for his efforts in launching the program's Incident Responder Web Page. He led the District in launching a website that gives first responders unfiltered access to its more than 280 live traffic camera video feeds and related incident information. Access to the District's video feeds helps responders monitor the progression of a traffic event and plan their response accordingly. The web page eliminated the need for these agencies to purchase the telecommunication lines required to access the District's video feeds and it reduced the time associated with coordinating these efforts as well. These reductions in time and resources has produced a cost savings of approximately $27,044.44 since its launch. The webpage is an example of how District Six continues to look for ways to promote cost-effective, data-sharing strategies advancing highway field coordination and safety.
These projects have had measurable impacts on the way FDOT District Six manages its transportation efforts in the region. They are an example of the team's commitment to improving upon its practices to serve our community's growing needs.