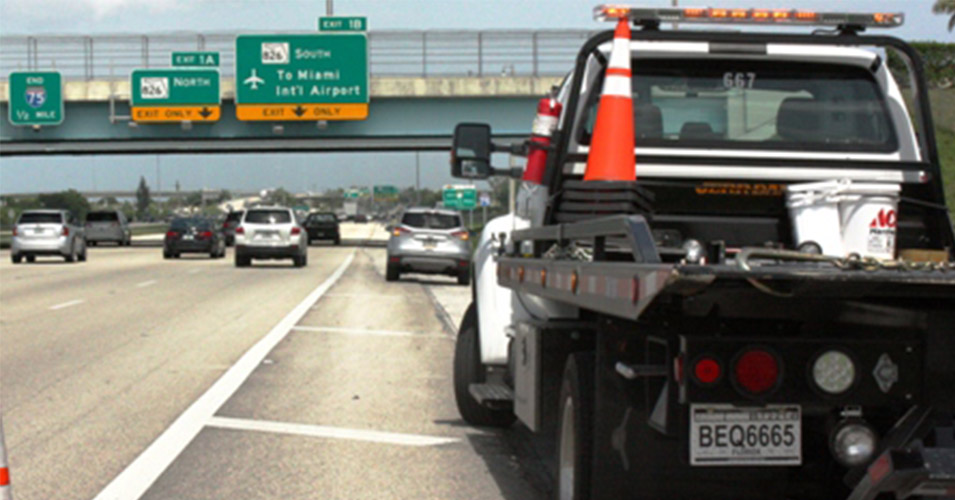 FDOT District Six adds two Road Ranger Service vehicles to patrol SR-826/I-75
FDOT District Six recently added two Road Ranger Service Patrol vehicles to support incident management efforts for the State Road 826/Interstate 75 Express Lanes Construction activities.
The additional resources were added to supplement the existing fleet and to reduce the impacts associated with construction. The new vehicles consist of a tow truck that will primarily function to assist stranded drivers with minor repair work and vehicle removal. It will also help emergency response personnel with incident management support and maintenance of traffic activities. The second vehicle is a flat bed truck that will expedite clearance for larger scale events that occur in the area.
The tow truck will patrol the facility through the project's limits which is along SR 826, from Flagler Street to NW 154 Street and along I-75, from SR 826 to NW 170 Street. The flatbed truck will remain staged on I-75 near the Miami Gardens exit and will be dispatched by traffic operators at the SunGuide® Transportation Management Center.
The vehicles were added on June 6th and are set to enhance current incident management activities to maintain the roadways' safety and mobility goals during this period of increased activity. Construction on these roadways is being completed as part of the Palmetto Express Project that is set to launch in 2017.