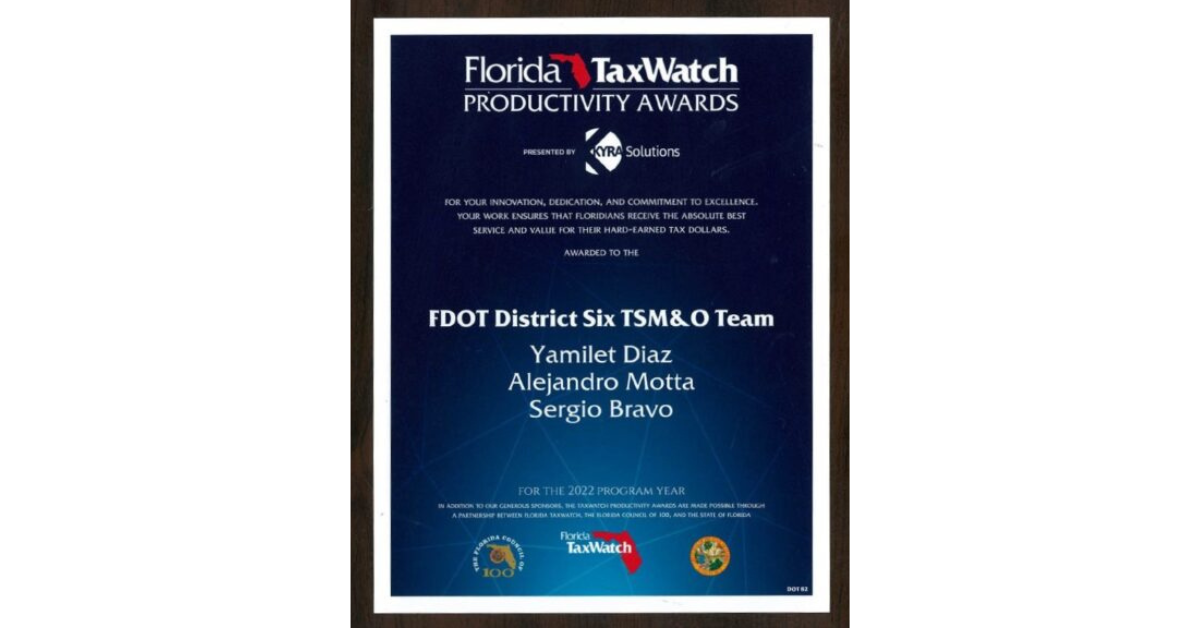 District Six TSM&O Office Recognized with Florida TaxWatch Award
The District Six Transportation Systems Management and Operations (TSM&O) Office recently won a Florida TaxWatch Productivity Award for the Monroe County Traffic Signal System (MCTSS) that expanded the operations and maintenance of the traffic signal system to the City of Key West.
Florida TaxWatch is a nonprofit organization that recognizes state employees who have significantly improved the delivery of state services to save taxpayers time and money. The organization reviews thousands of nominations per year and recognized District Six for improving the quality of life in Monroe County with this project.
The project was launched after the City of Key West opted out of its long-standing Traffic Signal Maintenance and Compensation Agreement with FDOT. The District built upon its maintenance and operations efforts in the county and worked for more than a year to develop a transition plan to assume operations from the City. District staff met with area stakeholders to identify local needs and conducted a city-wide assessment of the existing infrastructure to bring equipment to current-day standards. It established cellular communications between each of the traffic signals and the TMC, upgraded traffic signal controllers, added a backup power supply system at each traffic signal and retrofitted the traffic signal cabinet doors for easier police access. The District also established new procedures and upgraded arterial management software to allow for remote management from the SunGuide Transportation Management Center (TMC). The combination of these efforts led the District to activate 17 signalized intersections, 5 High-Intensity Activated Crosswalks (HAWKs) and one emergency signal in the City of Key West. This expansion brings the MCTSS to a total of 34 signalized intersections in the county.
For the complete list of the latest Florida TaxWatch winners, please click here.