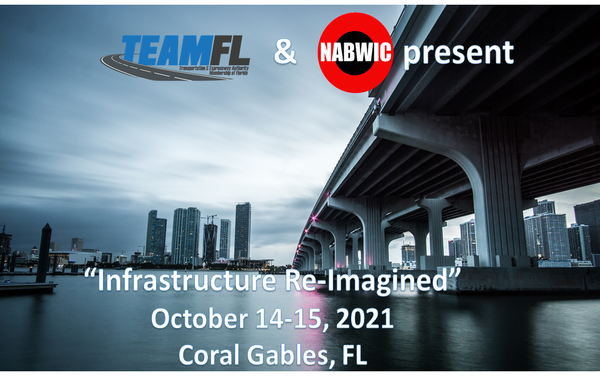 District Six Participates in TEAMFL Conference
The Florida Department of Transportation (FDOT) District Six Transportation Systems Management and Operations (TSM&O) office recently presented at the 2021 Transportation & Expressway Authority Membership of Florida (TEAMFL) Conference. The two-day event took place on October 14th and 15th in Coral Gables, Florida.
TEAMFL is an organization comprised of toll agencies with the intention to facilitate inter-agency cooperation and communication in the transportation industry. TEAMFL holds these meetings to bring together different industry professionals and provide them with a platform to present their latest projects and initiatives. The theme of the conference was "Infrastructure Re-Imagined" and featured a distinguished panel of speakers who presented different topics ranging from a Federal Transportation Funding Overview, Future of Mobility, Smart Roads, and others.
TSM&O staff participated in the FDOT District Six Update track. They presented on the TSM&O program detailing current operations, recent expansions in arterial and freeway projects, and future initiatives. They also presented on the District's first Connected and Automated Vehicle project, Keys COAST, that is set to become operational in 2023 in Monroe County and concluded the session with an overview of the Managed Lanes Network in Southeast Florida.
The District Six TSM&O office is committed to participating in these conferences because they allow staff to learn about the latest practices and lessons learned. They provide opportunities to network with industry peers and serve to advance the overall mission of improving the safety and reliability of our roadways.
For more information about TEAMFL, please visit https://teamfl.org/