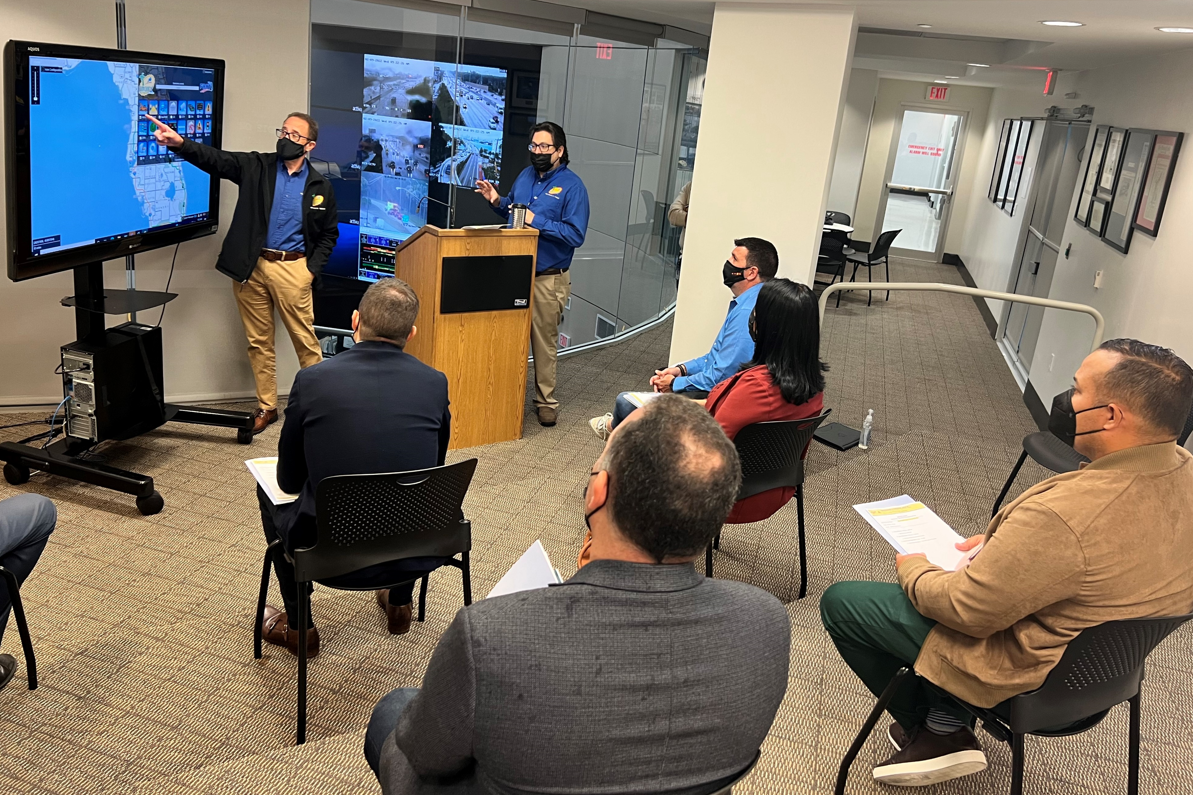 District Six Hosts Tour for Transportation Delegation of Puerto Rico
The District Six Transportation Systems Management and Operations (TSM&O) Office recently hosted a tour for Autopistas Metropolitanas de Puerto Rico (metropistas), which is a consortium of public-private agencies that manages two of the largest toll roads on the island: PR-22 and PR-5 highways.
The group was interested in the SunGuide® advance traffic management systems (ATMS) software that is used to manage the state roadway system in Florida. They wanted to learn about its features and functionalities to determine if it met metropistas' ATMS needs. The delegation was specifically interested in District Six's experience with the software because of their similar transportation network that includes toll lanes with variable pricing. District staff provided the delegation with a detailed overview of the software. They went over the traffic management modules that allow operators to monitor, detect, document, and manage incidents on the roadways. They provided lessons learned and detailed how the software has been used to meet their operational needs throughout the years. The tour was hosted in an open format discussion that allowed for questions and answers throughout the visit. It was followed by an observation session in the control room where they got to watch traffic operators use the software for a first-hand look.
The information provided in the tour successfully met the group's needs. It answered their questions and equipped them with the knowledge for their operational next steps. The District Six TSM&O Office regularly hosts tours for transportation delegates from all over the world. The tours provide an opportunity for outside agencies to learn about the District's operations and also helps staff learn about the industry trends and topics occurring outside the region. Information exchanges between agencies is vital to achieving the TSM&O mission of providing safe and reliable roadways for all. For more information or to request a tour of the District Six TSM&O Program, please click here.