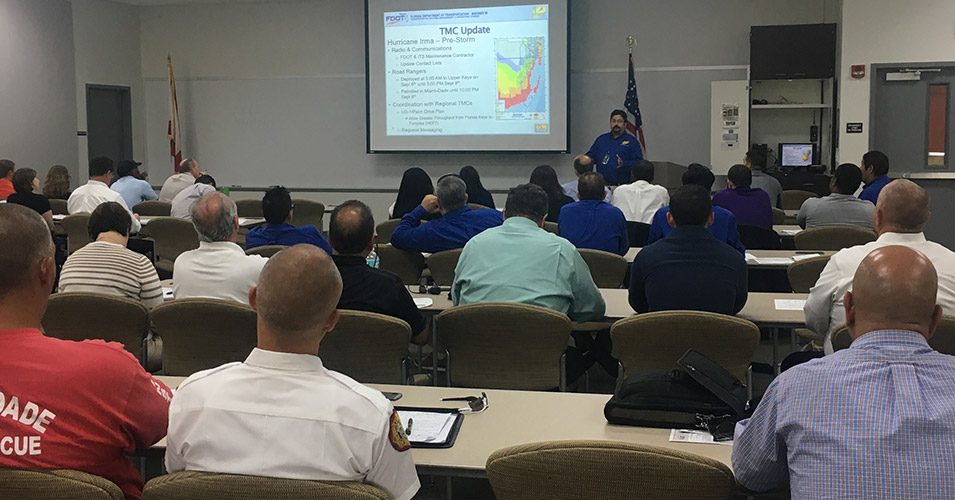 District Six Hosts Semi-annual Joint Miami-Dade/Broward County TIM Meeting
FDOT Districts Six and Four hosted their semi-annual joint meeting for the Miami-Dade and Broward County Traffic Incident Management (TIM) teams on October 4.
The meeting featured updates from team members about the procedures followed in preparation for Hurricane Irma as well as their lessons learned. They highlighted how the successful coordination between the District TMCs and their partner agencies helped them support their operational and incident management goals before, during and after the storm.
Members talked about the success of the Palm Drive Traffic Management Plan that was put in place to facilitate hurricane evacuation efforts from the Florida Keys to the mainland in advance of the storm. They noted the plan was carried out smoothly and effectively thanks in part to the extensive communication between the District Six Transportation Management Center (TMC), Florida's Turnpike Enterprise (FTE), Monroe County Sherriff's Office (MCSO), Florida Highway Patrol, and Miami-Dade County Traffic Signals and Signs Division. They also talked about the importance of keeping their network communication throughout the storm and how this allowed them to coordinate with their respective Emergency Operations Centers (EOC). They noted how their continuity of operations allowed the EOCs to disseminate traffic information and make critical decisions about the regional roadway systems during this time.
Some of the additional agencies represented at the meeting were Miami-Dade Expressway Authority, FTE, Port Miami Tunnel, construction project representatives, and Miami-Dade Fire Rescue, who provided a demonstration of their Tactical Response Team's Rotator unit.