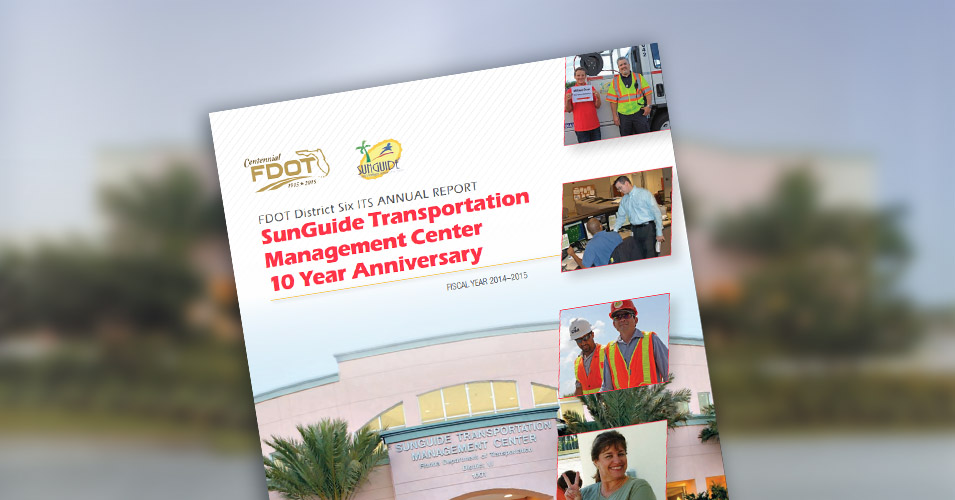 ITS Annual Report is Now Available!
The FDOT District Six ITS Office has published its Annual Report for Fiscal Year 2014/2015.
The report commemorates the 10-year anniversary of the SunGuide Transportation Management Center (TMC). This anniversary edition captures the beginnings of the District's ITS Program, the opening of the TMC and the progress that has been made since then.
The report offers insight in how the region's growth prompted the District to expand the program into what it is today. It describes how the District realized it could not build itself out of congestion and that integrating technology with transportation was becoming increasingly necessary to meet the growing traffic needs of the community. The report details the steps taken to expand the ITS infrastructure and formalize a regional hub that would eventually become a multi-agency traffic operations center for Miami-Dade and Monroe counties.
The annual report covers the program's five primary functions: ITS Deployments, TMC Operations, Incident Management, IT/ITS Maintenance and Traveler Information. It gives a brief history on the beginnings of each function, how they have developed through the years and the improvement projects that are set to take them into the future. It also details the benefits derived from 95 Express, the inception of the TMC's control room retrofit project and the upcoming improvements being planned to its software and operational efforts.
The report is filled with helpful statistics for each traffic service and provides a look-ahead for what is sure to be another exciting year in the District's ITS Program. So make sure to check it out today!
Please view the Annual Report here.