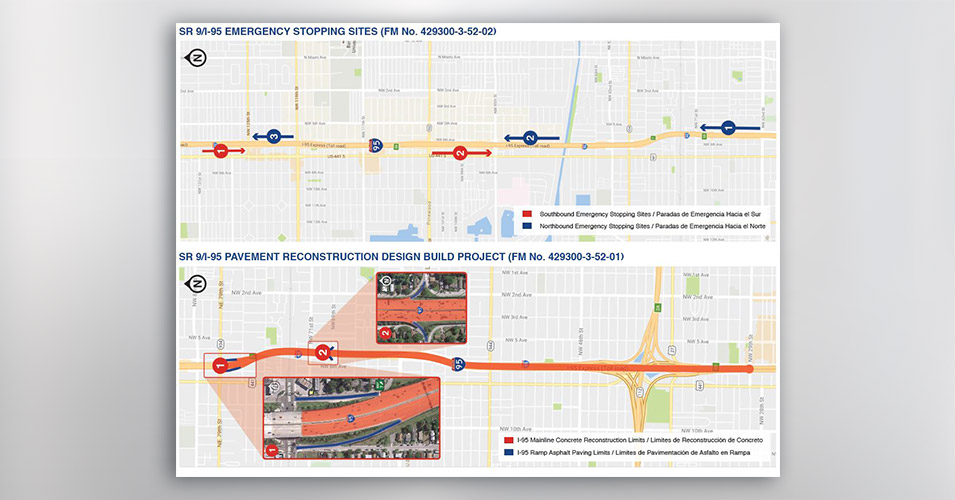 FDOT Kicks Off I-95 Safety Enhancement and Reconstruction Design/Build Project
On March 6, FDOT District Six began construction activities for a safety enhancement and concrete pavement reconstruction project on I-95 from NW 29 Street to NW 131 Street. This safety initiative includes the construction of five emergency stopping sites along 95 Express from NW 62 Street to NW 131 Street.
The emergency stopping sites will consist of 13-foot shoulders, measuring between 1,200 and 1,900 feet in length. These new stopping sites will provide a location for law enforcement, motorists and incident managers to pull off the express lanes for emergency stops or enforcement activities. There will be three emergency stopping sites on the northbound lanes and two on the southbound lanes.
The reconstruction portion of the design/build project will involve replacement of the concrete pavement on I-95 from NW 29 Street to NW 79 Street. Construction of the emergency stopping sites will take approximately one year and concrete pavement reconstruction is expected to last approximately three and a half years.
For more information, please call FDOT's Public Information Office at 305-470-5349, Construction Public Information Specialist Oscar Gonzalez at 786-280-0983, or go to the website at www.fdotmiamidade.com.