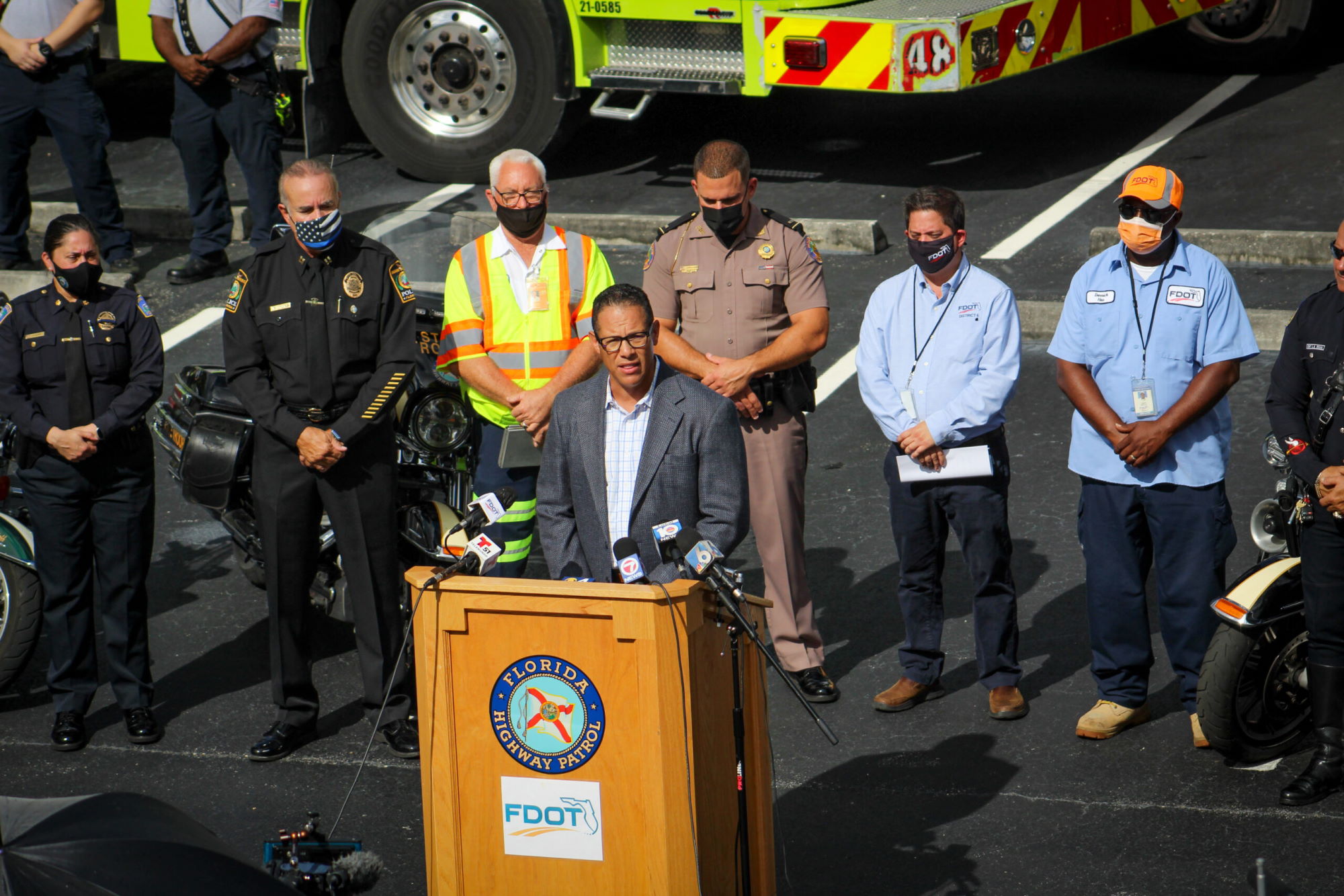 FDOT D6 Hosts Press Conference for Move Over Law
The Florida Department of Transportation (FDOT) District Six hosted a multi-agency press conference to raise public awareness for the Move Over Law and its recent amendment.  The Move Over Law was established in 2002 to improve safety for law enforcement, emergency, sanitation, utility, tow, and Road Ranger vehicles. The law was recently amended to include construction and maintenance vehicles.
FDOT partnered with the Florida Highway Patrol (FHP) Troop E, Miami-Dade Fire Rescue, Road Rangers, and other first responders for the event which garnered full coverage by the local media. District Six focused this event to shed light on recent traffic violations that jeopardized Road Ranger safety earlier in the year. It is important to remind the public about the Move Over Law as back-to-school traffic begins and more motorists are on the road. The Department urged the public to follow the law and announced the recent amendment. FDOT was followed by representatives from FHP, the Community Traffic Safety Team, and the Road Ranger Service Patrol Unit. They reiterated the importance of the law, spoke about their collective actions and experiences, and reminded the public that everyone wants to come home safe.
The event was covered by a total of five English and Spanish media channels who broadcasted the story on their television and web platforms. The press conference was proceeded by a law enforcement detail that was comprised of nine local police agencies. The four-hour operation yielded a total of 7 arrests, 145 citations, 12 written warnings, and distributed 107 traffic safety educational materials.  The press conference was one of the most successful to date in terms of education and enforcement goals. FDOT and its partners remain committed to raising awareness about all traffic laws to improve roadway safety in our region. For a full recap of the event including videos and photos, please visit the FDOT District Six Safety Resources site, here.