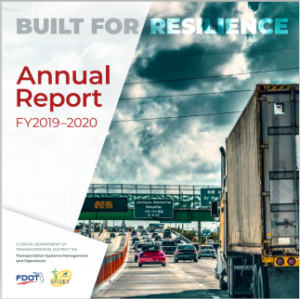 District Six TSM&O Office Releases 2019-2020 Annual Report
The FDOT Transportation Systems Management and Operations (TSM&O) Office published its Annual Report for the last Fiscal Year.
The report was drafted with the "Built for Resilience" theme as it highlights the Office's adaptability to the COVID-19 pandemic. It covers how the District's preparedness for potential challenges allowed it to build upon existing procedures to ensure its operational continuity during this critical time. It details the protocols placed to maintain staff safety and the measures it took to meet project deadlines and major milestones.   
The annual report covers the program's primary functions: ITS Deployments, Transportation Management Center (TMC) Operations, Incident Management, IT/ITS Maintenance, and Traveler Information. It also features a section on the program's benefits to the public featuring roadway clearance times, number of events managed, and more.
The average roadway clearance was 27.9 minutes reflecting a 44% reduction from our benchmark in 2005. One of the interesting things in the annual report is the effect the pandemic had on our TMC statistics. The TMC managed 55,600 events this year: a 7% decrease from last fiscal year. In contrast, 24,200 lane blockage events were managed: a 7% increase from last fiscal year. The FDOT District Six TSM&O Annual Report is located here.