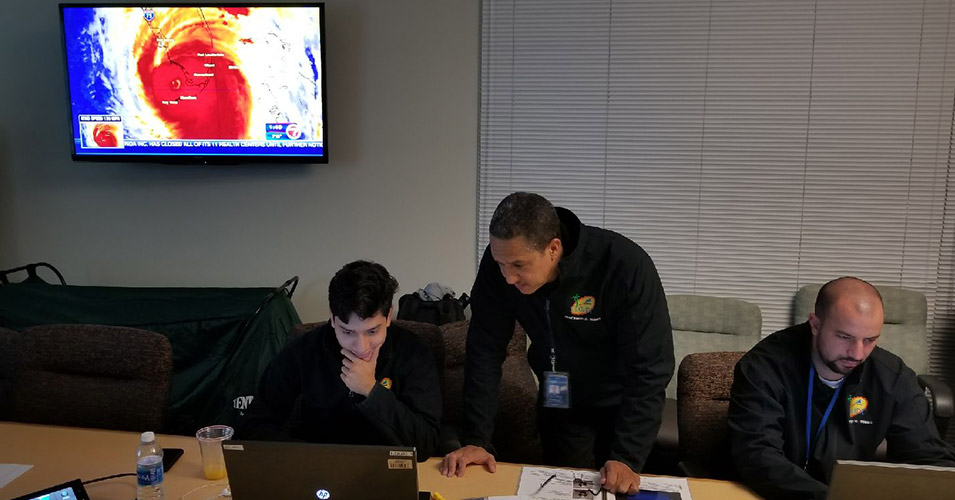 District Six TMC Prepares for Hurricane Irma
The District Six SunGuide Transportation Management Center (TMC) activated its Hurricane Response Action Plan (HRAP) in preparation for Hurricane Irma. TMC management and key staff met daily, one week before the storm's arrival. They reviewed the center's contingency plan to confirm the resources needed to maintain connectivity, ensure safety, and remain operational during the critical time period during and after the storm. They went through a series of checklist items and identified key activities for each of the program's departments including IT, Maintenance, Operations, Facilities and Public Information.
Operations ceased at the TMC building before the storm's arrival on September 8, 2017 at 6:00 PM. In order to monitor the system as called for in the TMC's HRAP plan, several staff members traveled north to the Florida's Turnpike Enterprise Turkey Lake Service Plaza in Orlando to perform remote operations from that location. The team was able to continue posting alerts to the Dynamic Message Signs (DMS), assist with managing and clearing traffic incidents, monitor multiple media sources for traffic information, provide hourly updates to the District Six Emergency Operations Center, and monitor roadway conditions before, during and immediately after the storm. Operations resumed at the TMC building on September 11, 2017 at 2:00 PM. Road Ranger services were extended to cover portions of US-1 in the Florida Keys prior to the storm and are currently being provided seven days a week from 7:00 AM to 9:00 PM to support the ongoing recovery efforts.
The TMC's HRAP played an important part in helping keep District Six roadways safe for drivers and providing information, assistance and coordination leading up to and after the storm.