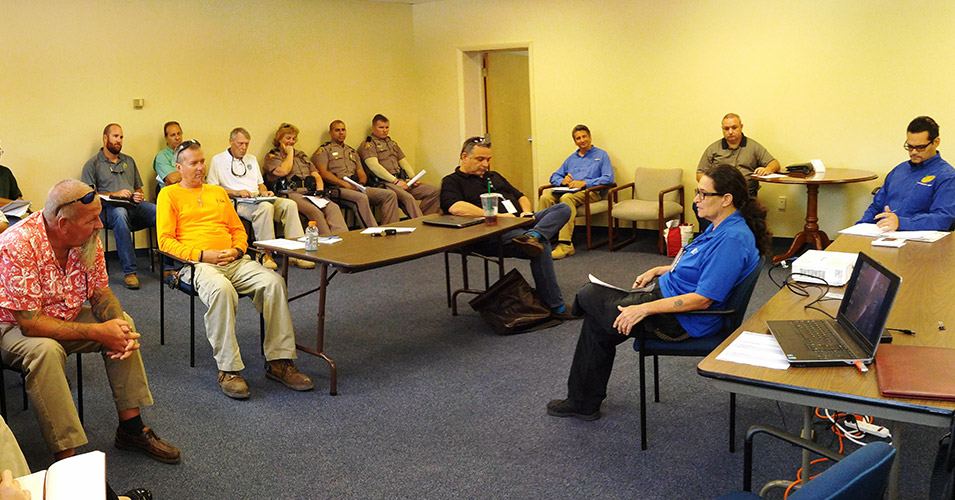 District Six TIM Team Hosts Annual Meeting in Monroe County
District Six hosted its annual meeting for the Monroe County Traffic Incident Management (TIM) team on June 21. The purpose of the meeting was to provide partner agencies with an update about the incident management initiatives completed this past fiscal year and discuss lessons learned. The District Six Transportation Systems Management and Operations (TSM&O) program provided updates on coordination with the Florida Department of Agriculture and Consumer Services for the screw worm animal checkpoint inspection program, the installation of Florida Keys wind sensors, improvements to the FDOT wireless communication backbone along US-1, and Federal Highway Administration National TIM Responder training.
The Florida's Turnpike Enterprise (FTE) provided an overview of the agency's evacuation plans, including its One-Way Plans and the many effective Prevention Plans currently utilized by the agency to prevent the need for this type of evacuation. These Prevention Plans include the creation of Strike Teams to assist additional demands at Service Plazas, a Fuel Plan to facilitate fueling of Turnpike vehicles, and the US1/Palm Drive Plan in Florida City to maximize the northbound movement coming up from the Keys.
A representative from the National Weather Service gave a presentation covering the 2017 Atlantic Hurricane Season outlook. The group discussed storm surge impacts and the emergency protocol that would be followed in the event of a major storm. Staff from the FDOT District Six Emergency Operations Center (EOC) stressed the importance of preparation and suggested use of social media as a way to gather and disseminate key information regarding storm damage.