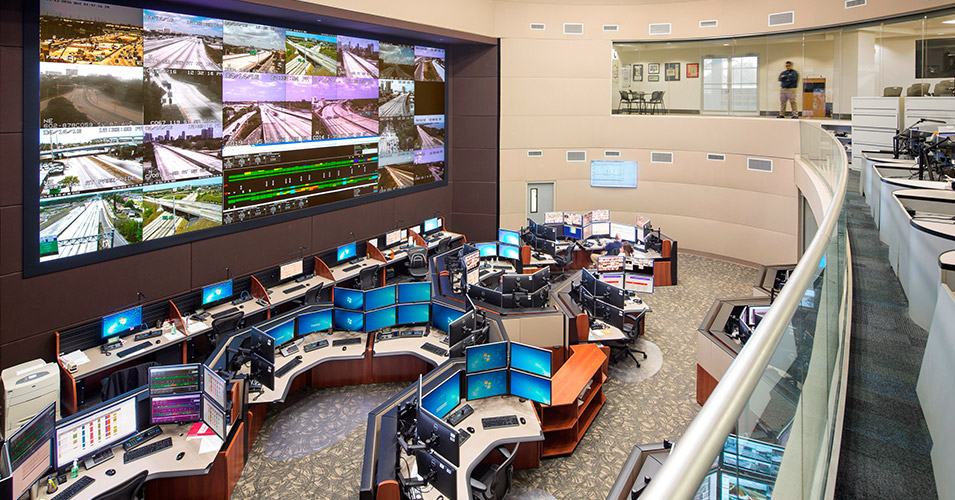 District Six Enhance SunGuide Transportation Management Center
The SunGuide Transportation Management Center (TMC) has been retrofitted to improve operations and promote the traffic mobility goals of our community.
The redesign was made to enhance the center's ability to handle future traffic operations challenges. It transformed the control room floor by maximizing the existing workspace capacity to meet the growing demands of our region. It changed the previous workspace from a simple linear model with a total of eight traffic operator workstations into a pod-based model featuring 18 traffic operator workstations and six manager support desks. It added three to five more computer monitors to each workstation and increased the image quality and size of the center's traffic video wall.
The new layout is promoting a more collaborative approach to traffic management. The workstations are sectioned into four pods that groups operators by major highways. The additional computer monitors are increasing operator workflow by enabling them to perform more functions and the larger video wall expanded the center's overall highway monitoring capabilities.
These improvements are set to increase the TMC's efficiency and enhance the benefits of the traffic services drivers depend on a daily basis. It is also equipping it the center to handle additional transportation projects as they come on line.
The redesign was completed this summer and shows a continued investment in addressing the issues of traffic congestion in our community. Integrating technology in traffic management has proven to be a viable and cost-effective alternative to traditional highway widening projects. It has shown to improve mobility, promote safety and deliver a sound return on investment to the public.
Download the Retrofit Project Fact sheet [PDF]