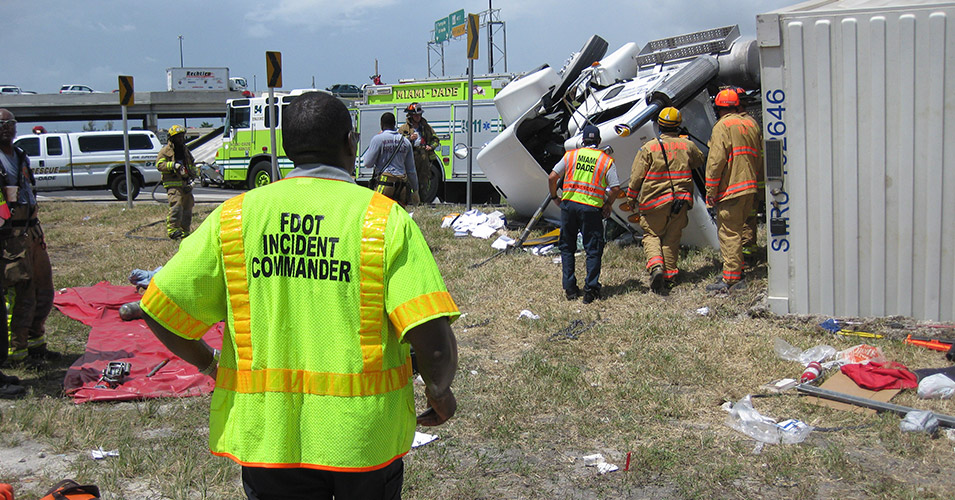 The District Six RISC Program Reaches Major Milestone, Clears Its 100th Incident in Miami-Dade
The Florida Department of Transportation's District Six Office cleared its 100th Rapid Incident Scene Clearance (RISC) event this January.
The District launched the RISC program in 2009 which has improved incident management efforts ever since. The program focuses on the rapid removal of complex, large-scale vehicle incidents that require additional time and resources to complete. RISC incentivizes expedited clearance times by requiring pre-approved vendors to arrive on scene (with required vehicles and resources) within 60 minutes of activation and to clear travel lanes within 90 minutes of receiving notice to proceed in order to get compensated for their work.
This incentive-based approach has worked to reduce clearance times for these events. Prior to RISC, the District relied on the Florida Highway Patrol wrecker rotation to clear these types of incidents. However, these efforts often resulted in prolonged clearance times because there were no financial incentives to expedite removals.
District Six has met its RISC performance metrics every year since launch. In Fiscal Year 2015/2016, it achieved a response time of 47 minutes and a travel lane clearance time of 63 minutes. The program continues to make strides. The District expanded RISC coverage to Krome Avenue, Okeechobee Road, and the MacArthur Causeway in 2011. A software module was developed to help operators track vendor performance and facilitate reporting.
The RISC Program continues to play a major role in the benefits the District provides to the motoring public. The combination of RISC and the District's other Transportation Systems Management & Operations (TSM&O) services has helped reduce average travel lane blocking durations from 50 minutes in 2005 to 28 minutes in fiscal year 2015/2016.